AMITYVILLE
---
| | |
| --- | --- |
| Amityville Today | In the summer of 1987, my Sister and I took a trip to New York for my Aunt's Wedding. When we were in Long Island, my Aunt's fiancče mentioned Amityville. Amytiville? You mean the one from the movie Amityville Horror? I was pleasntly surprised. I'm a big Horror movie buff, and that movie kicked ass. I asked if they didn't mind taking us to the house. They had no problem with it, since we were in the area. |

This was my first time to New York, and to Long Island. It's so much different from California. The town had its eerie quality to it, since it was so old and had plenty of history. As we drove down, there was a little pier, we stopped by to see the scenary. There was a big sign, at the end of the pier, that had the words Amityville. I thought it would be a great idea to take a picture of the sign, it would also be nice to have a momento to prove to people that I went there. We took a few snapshots and headed to the house.

The car slowed down accross from 112 Ocean Ave., we pulled to the side and parked. As we got out of the car, my Aunt's fiancče pointed toward a baby blue house on the shore. It didn't look exactly like the house in the movie, it actually looked really nice. Supposedly the house was owned by a Judge, and he fixed-up the house. So it didn't look as scary as it did in the movie. But hey, that's okay it's still the house. I took a few more shots of the house, for my proof. Then we enjoyed the rest of the day in Long Island along the shore. We ate at a beachside restaurant, this is the place where I had my firt Long Island Iced Tea, and I was only 15, cool huh. I sure had a great day.

The vacation ended and we went back home to the Bay Area. I got my film developed. My sister picked them up and she told me that the Amityville photos didn't show up. I was so pissed off. So I asked my sister if the whole roll was gone, she said it was fine, Amityville was the only photos that didn't show. Now I was confused, how odd, I had to see for myself. Flipping through it the picures, she was correct, everything came out except for the Amityville trip. Freaky, I took the pictures in the middle of the film.
---
TO GET A DETAILED CRIME REPORT OF THE AMITYVILLE MURDERS
CLICK HERE THE CRIME LIBRARY "THE REAL AMITYVILLE MURDERS"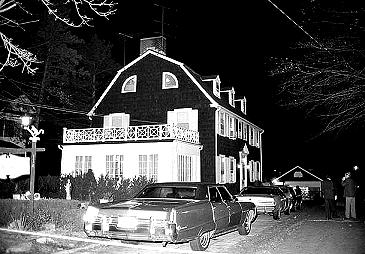 November 15, 1974 , Police Investigators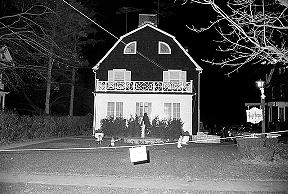 The Crime Scene Taped Off
---
---
---
WebMaster:EDoggM
Copyright &copy EDoggMz House Inc. All rights reserved.